Map Unavailable
Date/Time
Date(s) - 05/21/2017
All Day
Categories
Please review the Schedule of Events page as it contains a lot of useful of information and tips to make your race as hassle-free as possible. Be sure to Like us on Facebook to stay up to date the latest information.
Recent News
Check out our Promotional video


The Auburn Triathlon is held annually in Auburn, CA (the Endurance Capital of the World) and consists of the World's Toughest Half (1.2 mile swim, 56 mile bike, 13.1 mile run), the Auburn International Triathlon (.9 mile swim, 24.8 mile bike, 6.2 mile run), the Auburn Mini Triathlon (500 meter swim, 8 mile bike, 2.6 mile run), and the Auburn Long Course Aquabike (1.2 mile swim and 56 mile bike).
Each event offers calm water, canyon scenery, mild temperatures, and a low-key race environment. The rural bike courses are on safe, extremely minimal traffic roads (35 miles with no signal lights), featuring a narrow, tree-canopied road diving down to the secluded banks of the Bear River. You will swear you're racing a Giro D'Italia stage! The setting for your run is the spectacular Auburn State Park – breathtaking views along the canyon rim, looking down at the American River.
You'll enjoy a grass roots feel with a focus on delivering the best possible experience to each and every athlete. The Auburn Triathlon will be a weekend you never forget! Enjoy the fabulous T2 and Finish venue of the American River Canyon Overlook. with lots of spectator shade and multi-loop vantage points!
Participant Benefits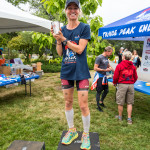 This unique, beautiful, and challenging venue is only a backdrop for a truly memorable event that will go to every length imaginable to cater to you as an athlete. This is an absolutely premium event that pampers you with the best gear, best food, best awards, best course signage, marking and support from 200+ volunteers and numerous local government agencies.
And since triathlon is an expensive sport and we aim to welcome all participants, we offer a discounted entry fee to those who need it most: Full-time students and others with extremely limited income. Email for details.
Entry Fee Includes:
Race-logoed distinctive running high tech Shirt.
A unique Finisher's Medal – with a design of Auburn Triathlon's logo! The coolest medal you will see anywhere.
Incredible Finish Line Feast, with a hot, fresh-cooked meal, ice cold beverages including beer, healthy treats, fresh fruit, and of course, dessert!
Overall awards 3 deep
Age Group awards 3 deep
Logistics
This is a two-transition race with the swim at Folsom Lake and T2 & finish line at the American River Canyon Overlook in Auburn. Folsom Lake is six and half miles downhill from the finish line via Auburn Folsom Road. Read more on the Transitions Logistics page.
Weather
Average high temperatures in May in Auburn, CA run in the high 70s to low 80s with lows in the high 40s to low 50s. The higher elevations on the bike ride (2,400′ max) will be a little cooler in the morning.
Expect the water temperature at Folsom Lake to range from 64 to 73 degrees.
More details will be provided race weekend on water temperature, which is dependent on the timing of the annual snow melt in the Sierra Nevada.