Latest posts by ASJ Staff
(see all)
Map Unavailable
Date/Time
Date(s) - 09/02/2023 - 09/09/2023
6:30 am - 6:30 pm
Categories
Join AdventureCORPS for a Brand New Vision of Stage Racing and Adventure Travel in Armenia & Artsakh!
Over the week of September 3-10, 2022, AdventureCORPS will host a six-day, point-to-point, 160-mile (260km) trail running stage race in Armenia & Artsakh!
Formerly known as Nagorno-Karabakh during the Soviet era, Artsakh is a fascinating, wonderful country that few people have even heard of, and even less have visited. We aim to change both of those facts by bringing runners from all over the world to Armenia & Artsakh! In 2022, we hope to have 50 runners representing at least ten different countries participating.
Will YOU join us for the first stage race held in Armenia and first running race ever held in Artsakh?
The race will be organized in a "stage race" format, in which runners will run a different section of trail each day. Each day's "stage" will be timed separately, and overall results will be calculated by adding all six days' times together.
Racer check-in and gear check will take place in Yerevan, the capital of Armenia, while runners will enjoy restaurant dining that night and an overnight at an excellent Yerevan hotel. The next morning we will board buses for the three-hour drive across Armenia to our start line.
Because we want you to focus on the running and the overall experience, luggage transport will be provided each day.  Also, all breakfast and most dinner meals will be provided. (Runners will provide their own energy food while running.)
While the route will be incredibly beautiful and challenging, the race itself will also be a culturally immersive experience. Each day's route will pass through one or more villages, while the overnights will be in or near villages and cities. Runners will eat the local, super healthy, incredibly fresh food. They will enjoy Armenian music, dance, and culture. Along the way, the runners will visit – sometimes "off the clock" – 1000-year-old Armenian churches, monasteries, and archaeological sites. Also, other than the race director, the entire race staff will be Armenians. And while each competitor will run as part of an international field of runners, they will be embraced, surrounded, and supported by the people of Armenia and their incredible food, music, language, and culture.
This event is supported by the Government of Artsakh and AdventureCORPS' local charitable partner is Trails For Change NGO.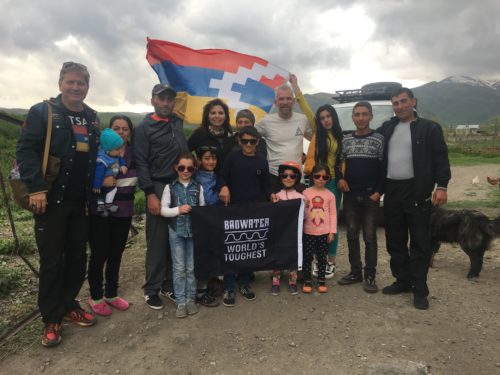 After five stages of adventurous running across Armenia, stage six – and the event – will conclude in the gorgeous capital city of Artsakh – Stepanakert. The finish line will be the "We Are Our Mountains" sculpture affectionately known as "Tatik-Papik." Created in 1967 (like your race director), this is the symbol of Artsakh, and will also be the symbol of this race, featured in the race logo, t-shirt, hat, race magazine, and finisher awards.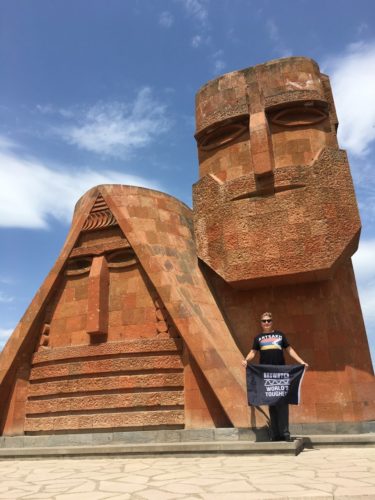 The race will conclude with an overnight in hotel and a celebratory evening with Armenian food, music, and a final deep immersion in Armenian and Artsakhzi culture. Buses will transport runners back to Yerevan the next morning for flights back home that evening.
Armenia is a democratic, Christian nation and Artsakh is located just east of Armenia itself. It's an absolutely gorgeous place, covered almost entirely in pristine, green, forested mountainous with trails and pathways dating back literally thousands of years. Artmenia is home to beautiful, fascinating towns and villages, ancient sites, natural wonders, Christian churches dating as far back as the 4th Century AD, the cosmopolitan capital city of Yerevan, and much more.
Armenia is just a short flight from Europe and easily reached from anywhere in the world. (International flights arrive through Yerevan, the capital of Armenia.)
View the announcement video with race director Chris Kostman at this link.