Latest posts by ASJ Staff
(see all)
Map Unavailable
Date/Time
Date(s) - 07/15/2023

Categories
World Class Cycling • You Pick the Challenge!
41 Years of Cycling the California Alps
Challenge yourself to the premier cycling event in California. The route offers over 14,000′ of climbing, 103 miles, and up to six (6) HC Alpine climbs . This ride is sure to challenge you, inspire you, and leave you wanting more.
Read Cycle California Magazine's Article "Riding With Friends" by veteran Death Rider, Bo Crane.
Sign up with Cycle California to receive more cycling stories in your inbox!
The Route
Starting and finishing at Turtle Rock Park in Markleeville, Calif., the 103 mile course begins at 5:00 am and covers both sides of three mountain passes: Monitor Pass (Hwy 89), Ebbetts Pass (Hwy 4), and the Pacific Grade (Hwy 4). The full course is not for the faint at heart! The course will be closed to traffic from Markleeville through all sections of climbing, with a turnaround point at Lake Alpine where participants will head back to the finish at Turtle Rock Park.
Those who complete all of the climbs and return to the finish line within the event timeframe may purchase the sought-after Death Ride® – Tour of the California Alps Finisher's Jersey. All athletes, their families, and spectators are encouraged to join us at the finish line festival for food, photos, camaraderie and to visit our expo booths and sponsors.
The course route, water and rest stop locations and cutoff times are subject to change. Road closures will be in effect from 5am – 4pm. The event time limit ends at 6:00 pm, and all riders must be off the course by 7:00 pm. All cut-off times are strictly enforced. Segment cut-off times indicate the latest time that a rider will be allowed to begin each segment. Riders attempting to begin a segment after the cut-off time will not be allowed to proceed.
Train with veteran cyclists! The Alta Alpina Cycling Club will be hosting training rides throughout the spring and summer.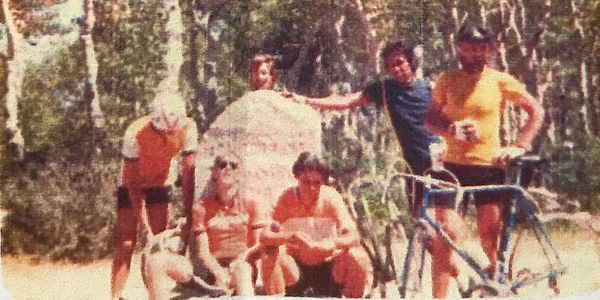 History
The Death Ride started in 1978 when five guys decided to cycle the California Alps in one day, with just the support of friends and family following along in a vehicle. The event quickly grew to worldwide recognition in the cycling community, and is a sought-after event for those looking for a serious challenge.
Today, the ride still caters to the elite mountain cyclists, but also offers a range of challenge levels, from one pass to up to six highly categorized climbs over Monitor Pass, Ebbetts Pass, and the Pacific Grade.
The event is not only a highly sought after cycling challenge, it is the primary fundraiser of the Alpine County Chamber of Commerce and many local nonprofits that serve the communities of Markleeville, Woodfords, Bear Valley and Kirkwood.
The goal: Supporting a vibrant economy and healthy community while providing a world class destination for cyclists, fishermen, hikers, climbers, skiers, and many more. We thank those who have participated in past year's Death Rides, and who have contributed to help us keep our mission alive.