Latest posts by ASJ Staff
(see all)
PRESS RELEASE: California Enduro Series presented by Specialized


Photos by Bixxel

Featured image: Cody Kelley, Ashland Mountain Challenge Pro Men Champ.

The California Enduro Series crowned its phenomenal 2022 season with the wildly popular Ashland Mountain Challenge on Saturday, October 1 — just over the California border in Ashland, Oregon. The sold-out race, presented by Wild Rogue Events, ran on the fast and flowy trails of Mount Ashland under sunny skies.

Cody Kelley snatched the top step of the pro men's podium with an astonishing 0.105 second lead on Cory Sullivan, while Carina Claassen shot to first place with a 49.296 second lead on Janea Perry. All in all, it was a wild race on a ridiculously loose, parched course: Hello, racers, welcome to Ashland-in-the-dry!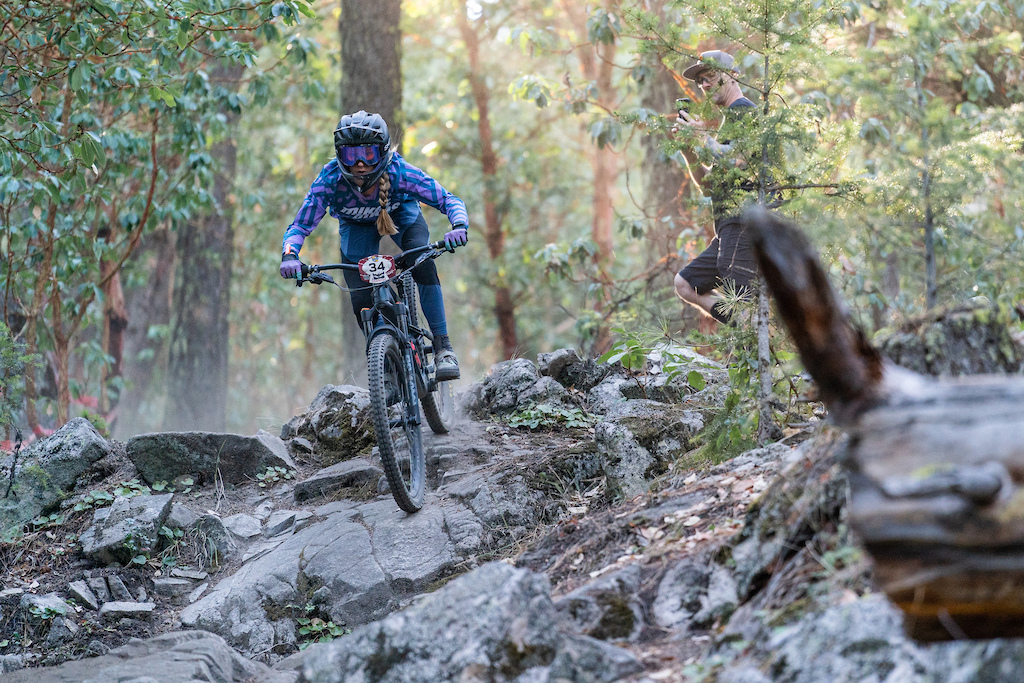 Carina Claassen, Ashland Mountain Challenge Pro Women Champ.
Ashland Mountain Challenge Practice Laps
Riders — many with family and friends in tow — began flowing into Ashland mid-week to get after practice laps and enjoy the town's unique vibe.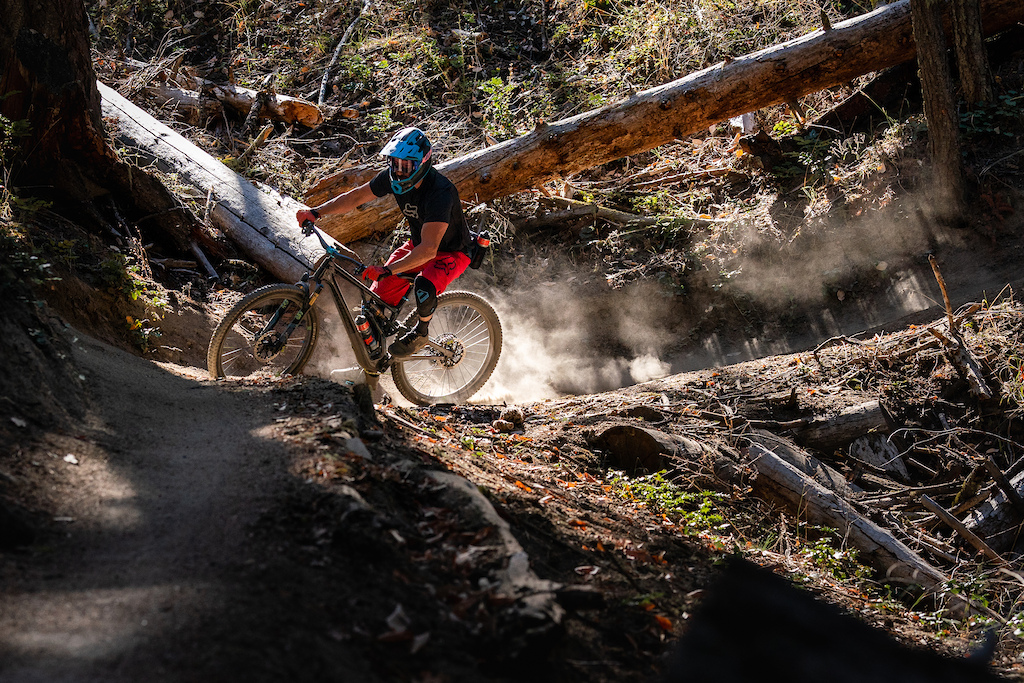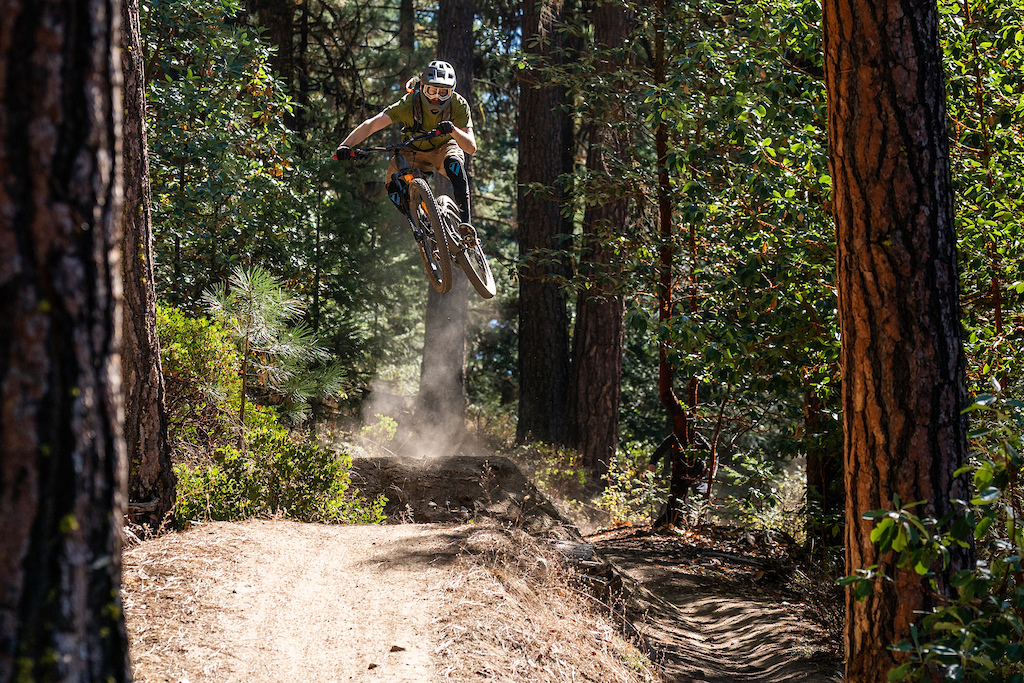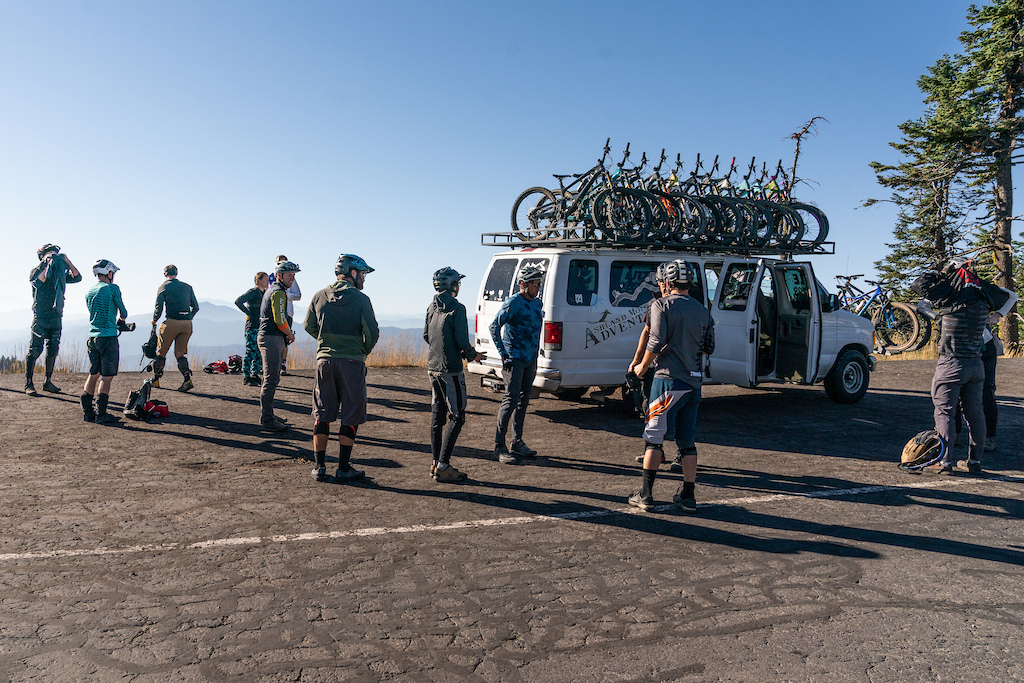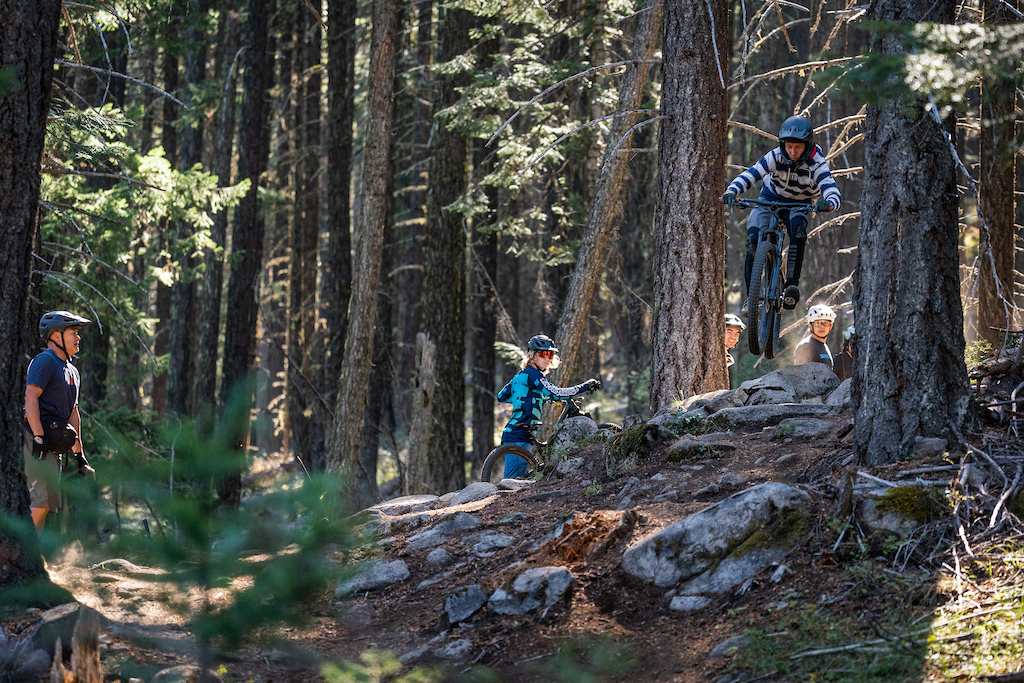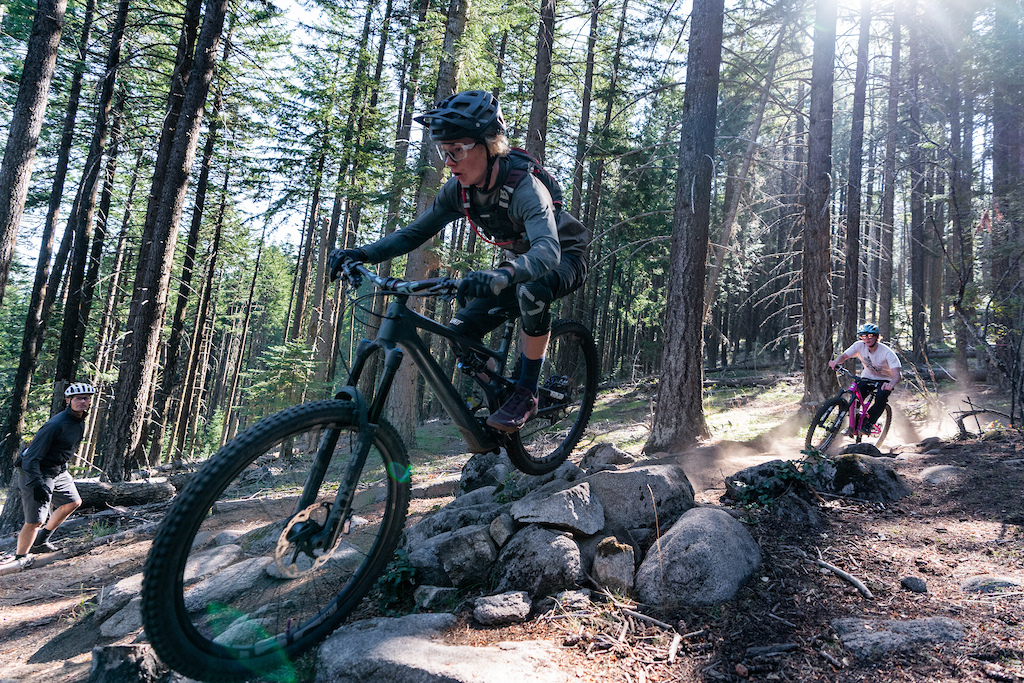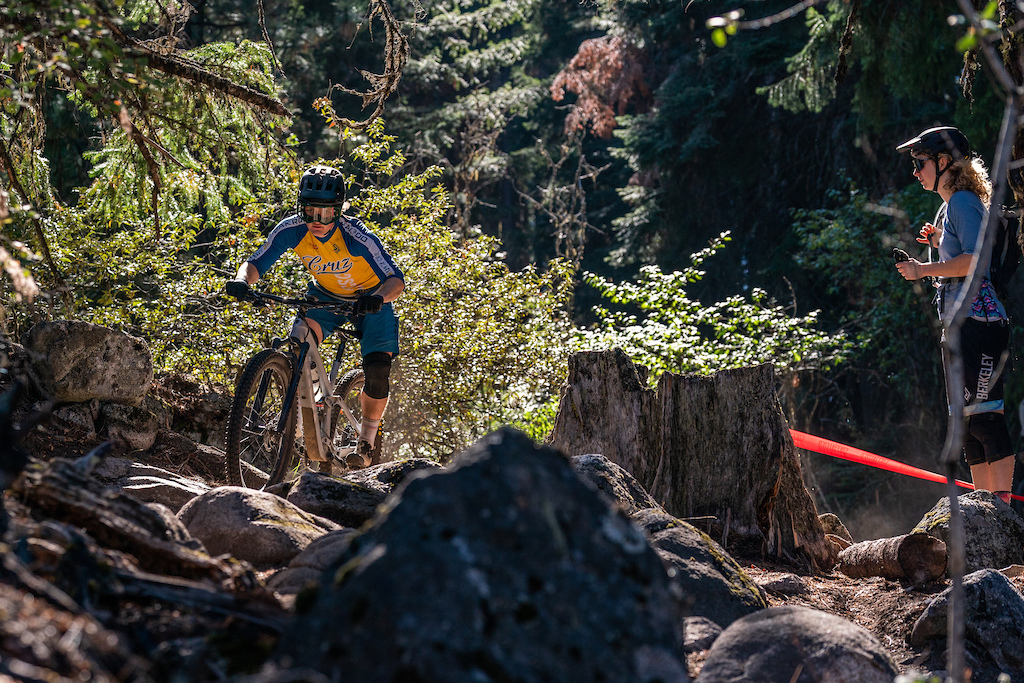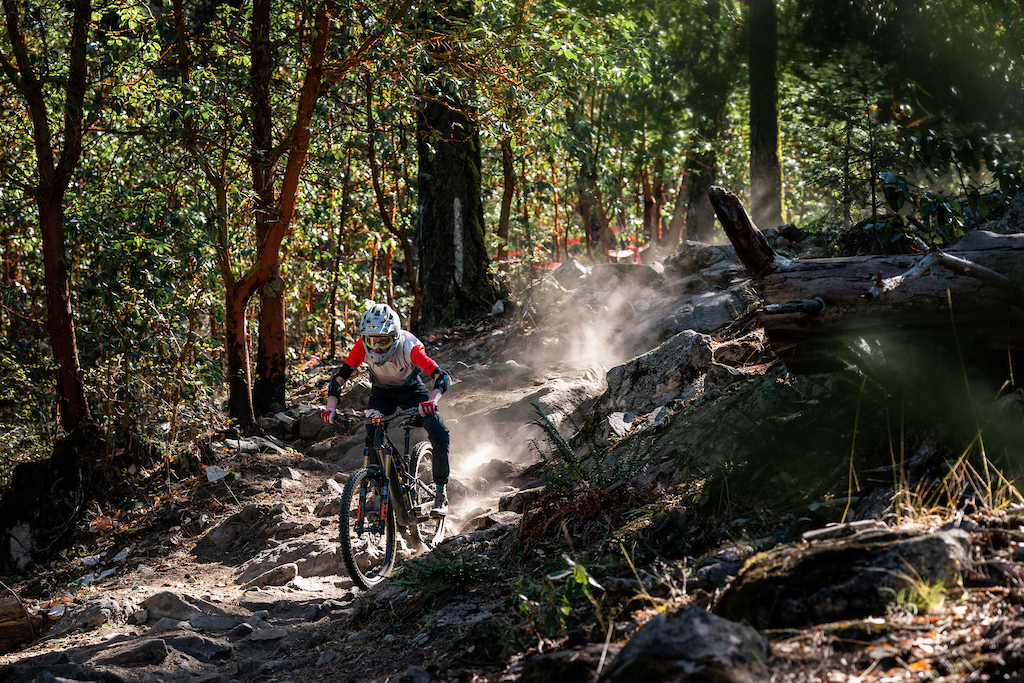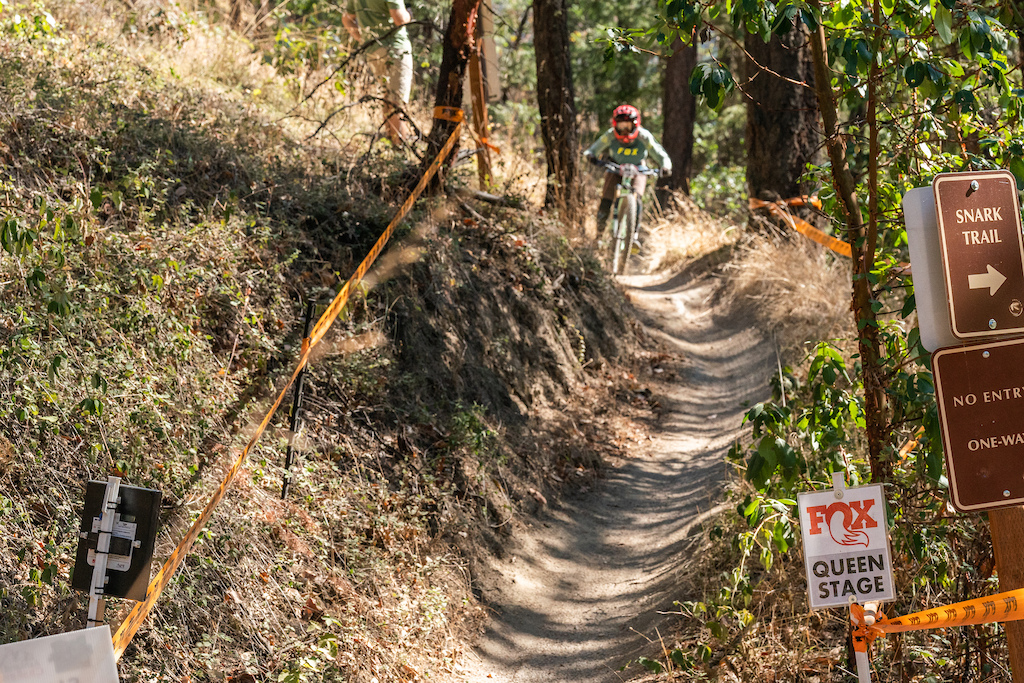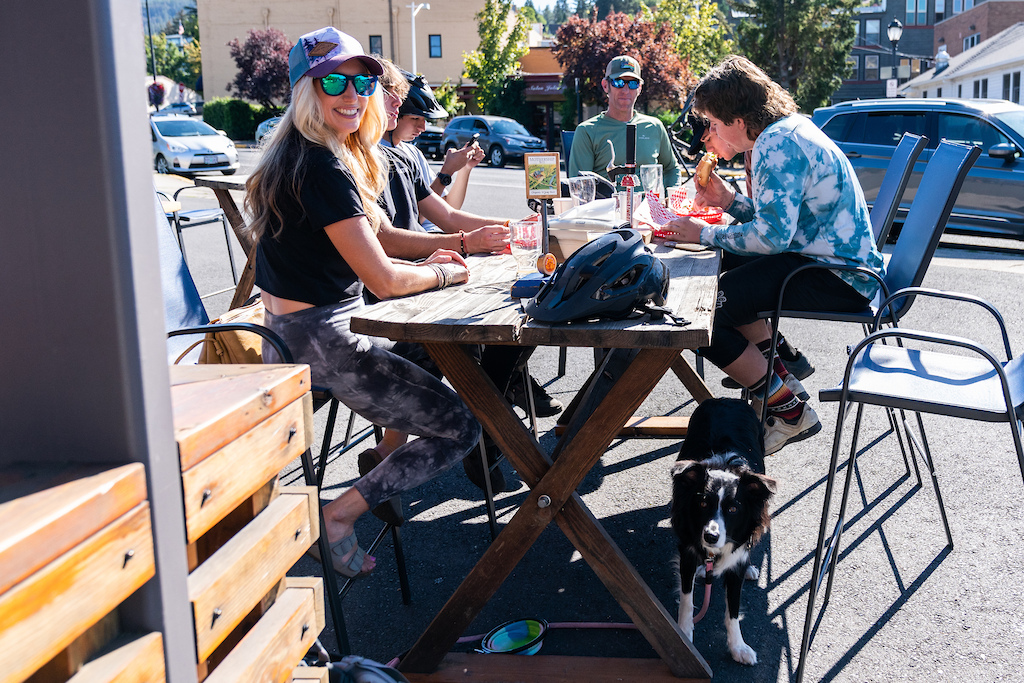 Ashland Mountain Challenge Race Day
On race day, Beginner and Sport riders – who would race their stages in numerical order – converged in Lithia Park for their mellow 5-mile pedal transfer to Stage 1.
Meanwhile, Pro and Expert riders made their way to the top of Mt A (via lifts from family/friends or the Ashland Mountain Adventures and Shasta Gravity shuttles) for their mostly-downhill transfer to the top of Stage 3; they would race their stages in this order: 3, 4, 5, 1, and 2.
Immediately after completing stages 2 and 5, all racers were required to check in at the CES timing tent to have stage times downloaded from their chips. (Speaking of timing, a special shout to the Highway 68 Hillbillies for running impeccable timing stations as always!)
Stage 1 took place on Ashland's renowned high-speed Hitt Road on the west side of the watershed and featured plenty of water bars, rocks, and "S" turns to keep riders on their game.
From the bottom of Stage 1, riders made the relatively quick pedal to the top of Stage 2 which ran on BTI, an old-school Ashland classic. This short but oh-so-sweet stage boasted big grippy berms to rally and tight techy corners to sprint out of.
High up the mountain, on the east side of the watershed, Stage 3 linked up Lower Bull Gap's downhill section with both the upper and lower sections of Missing Link. Plenty of rocks, roots, tight corners, sweeping berms, and luscious loam kept riders on their game and in their glory.
From the bottom of Stage 3, riders railed on down to the top of spicy Stage 4, which took place on Marty's. This track delivered some techy, steep sketch – sheer fun for some, intimidating for others and thrilling for all.
A quick pedal transfer brought riders to the top of Stage 5 which took place on Lizard and Jabberwocky. This stage was all about pumping and flow, keeping it upright on fast, dry corners and making the most out of rollers, tables, and banked berms. This fast run was designated as the FOX Queen Stage in which the racer from each category with the fastest time received bonus points toward the overall ranking.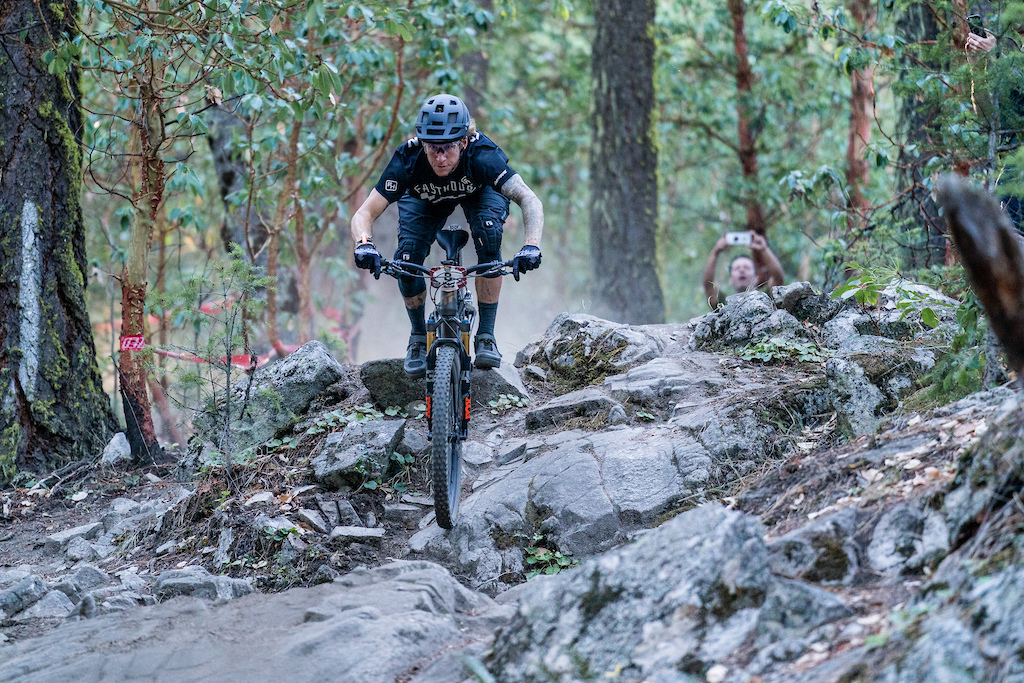 Cory Sullivan, Pro Men 2nd place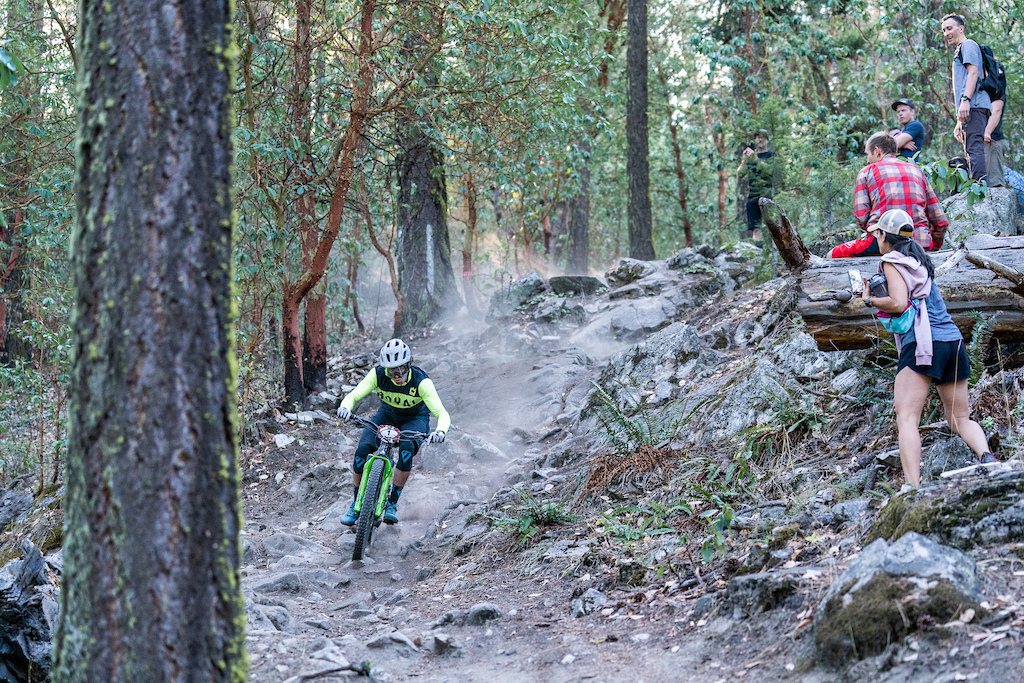 Evan Geankoplis, Pro Men 3rd place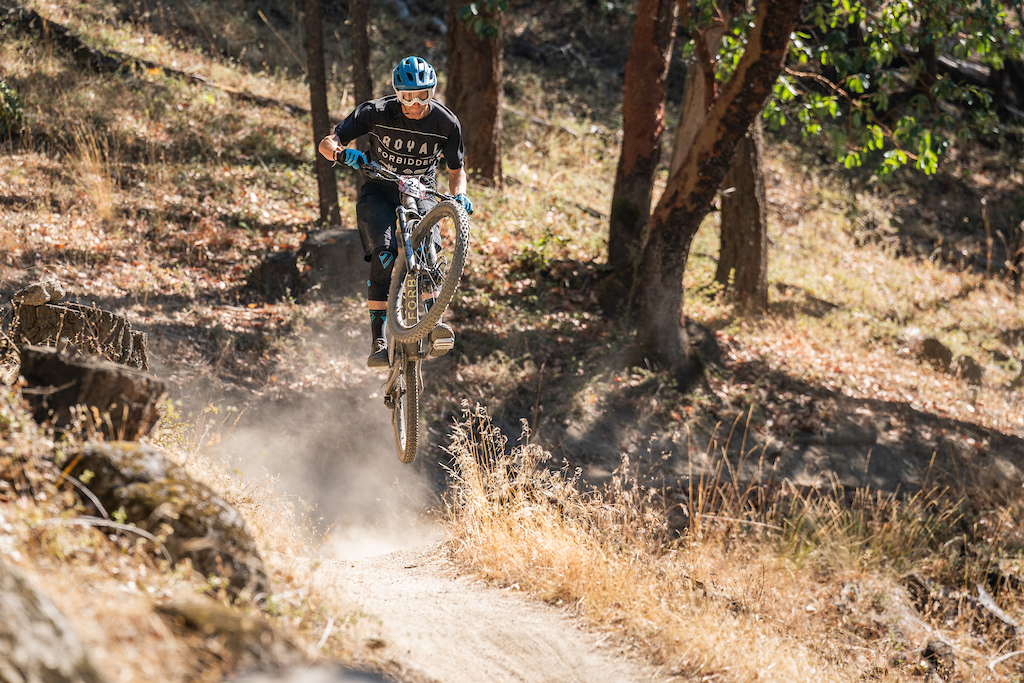 Todd Renwick, Pro Men 4th place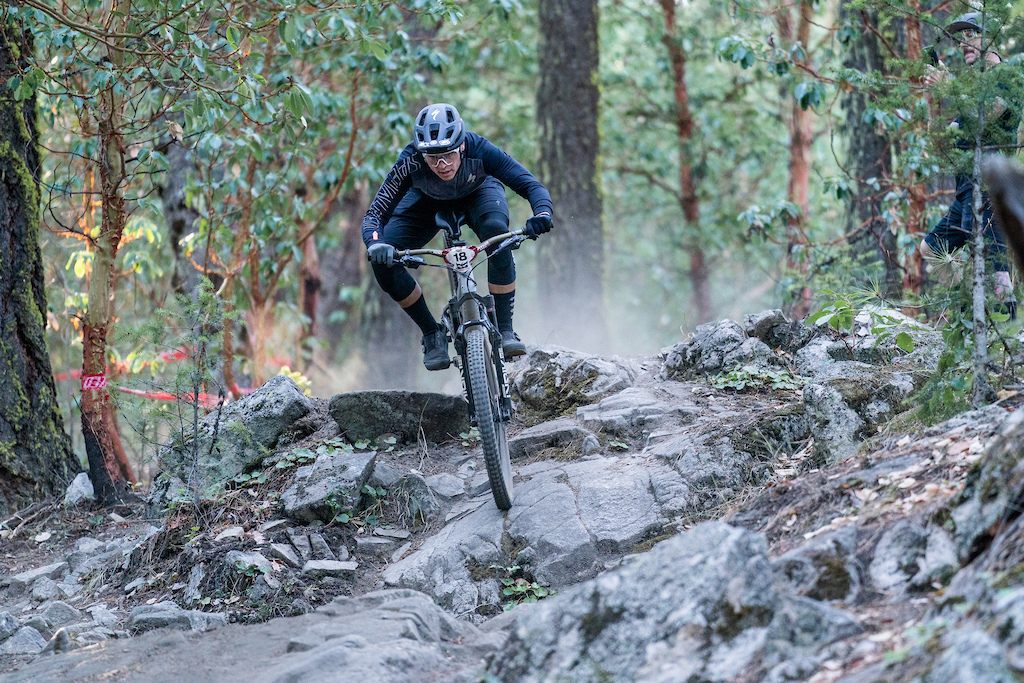 Nick DiNapoli, Pro Men 5th place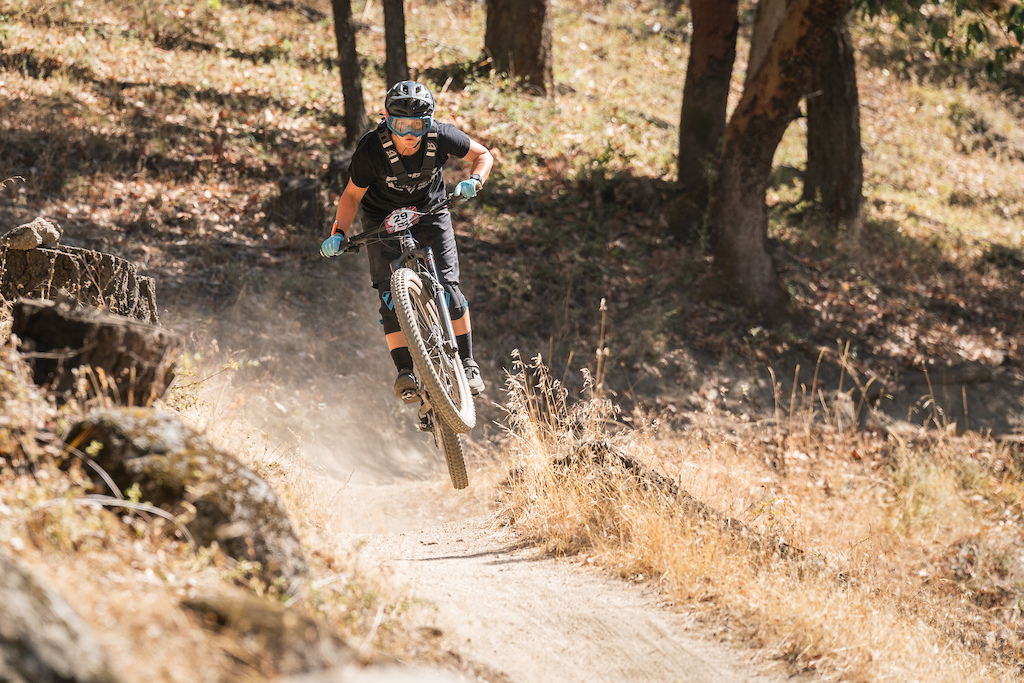 Janea Perry, Pro Women 2nd place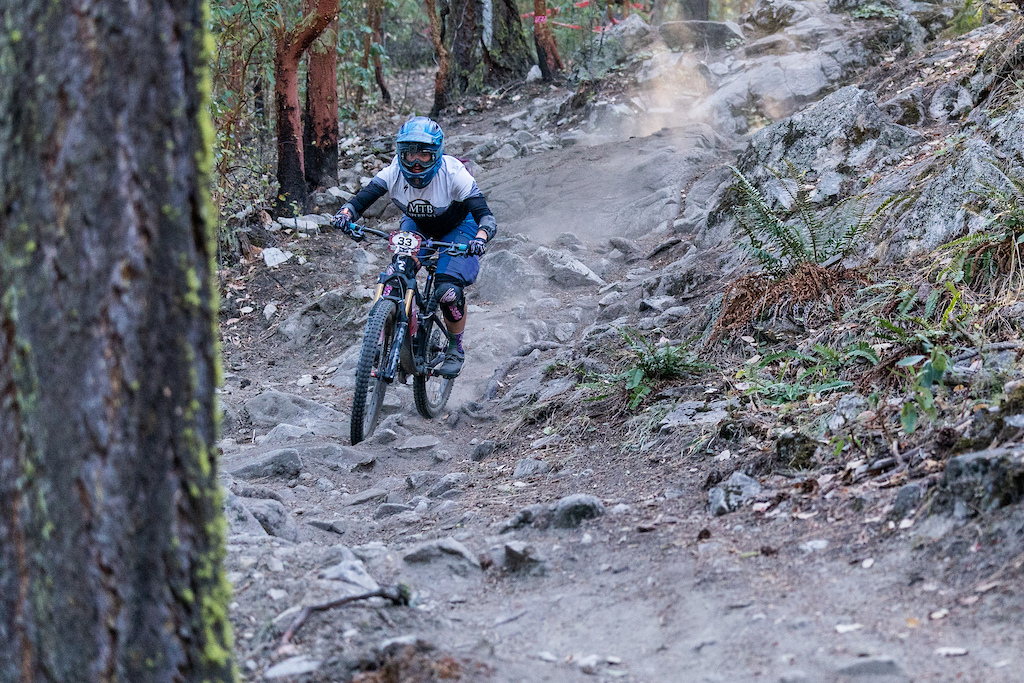 Heidi Kanayan, Pro Women 3rd place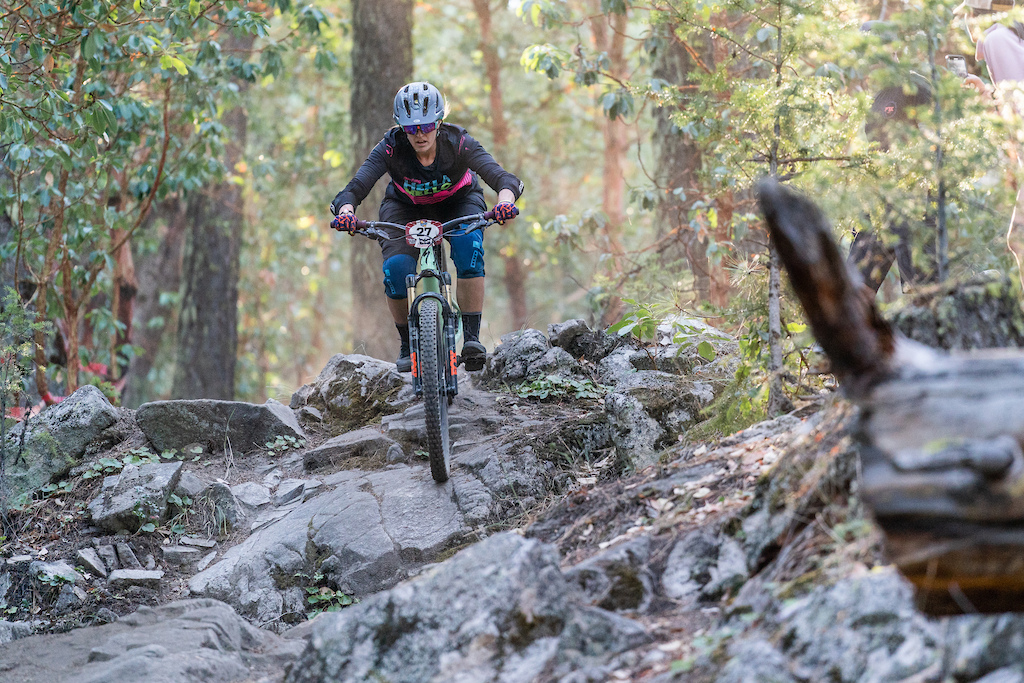 Haley King, Pro Women 4th place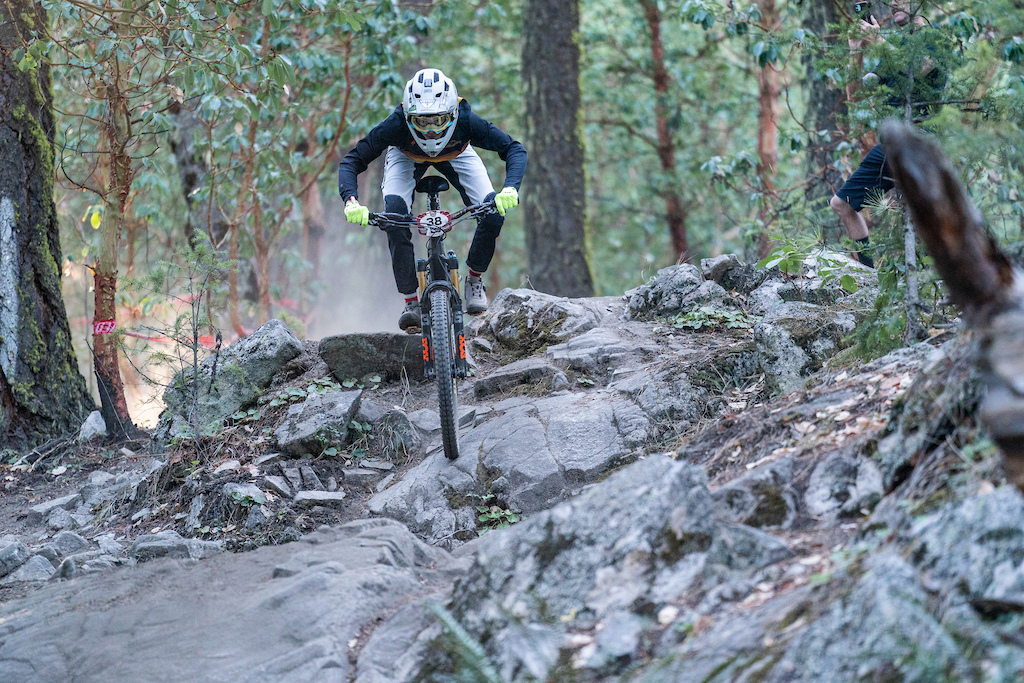 Aiden Reams, Junior Pro Men U21 Champ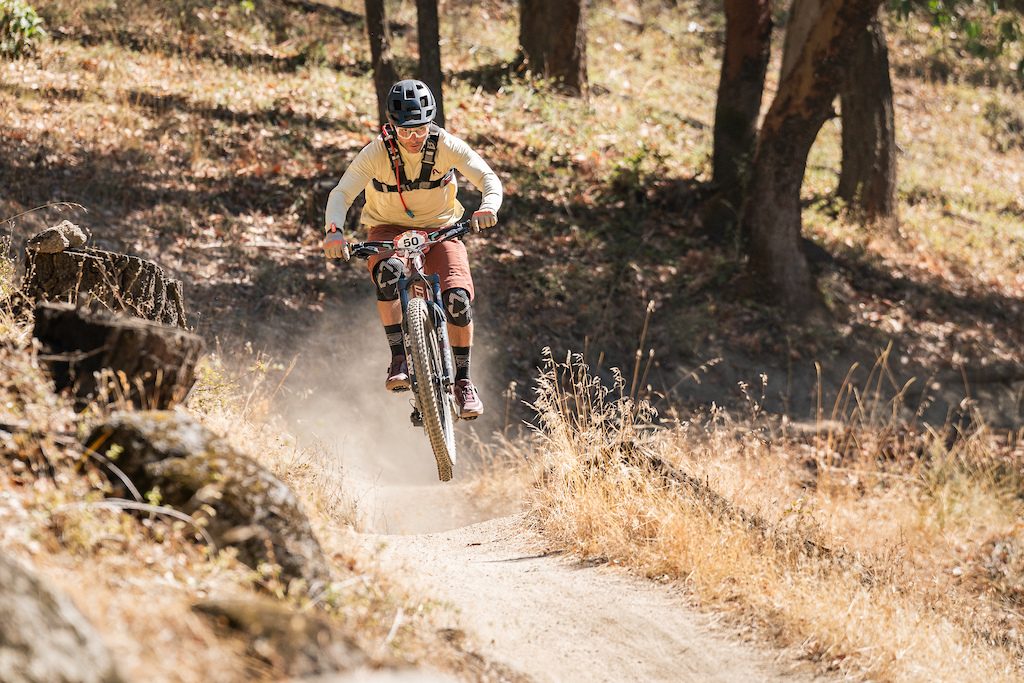 Jacob Dore, Master Pro Men 40+ Champ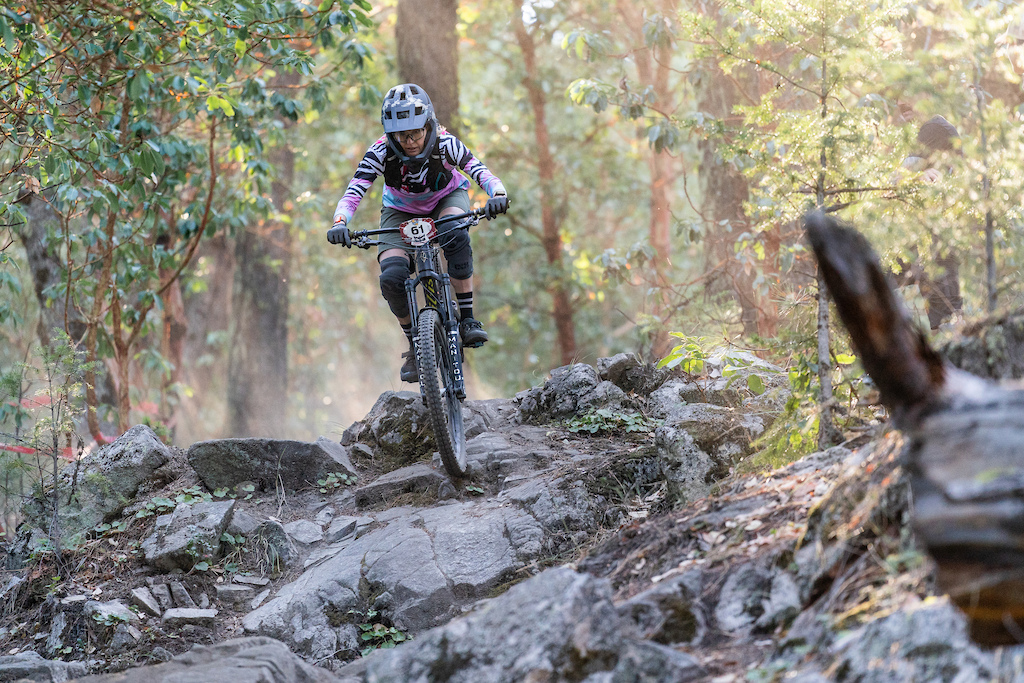 Andrea Napoli, Master Pro Women 35+ Champ
Ashland Mountain Challenge Venue Vibes
The Ashland Mountain Challenge showcases two of Ashland's most scenic and iconic spots: Mount Ashland and Lithia Park. A festive awards ceremony followed Saturday's race. Wild Rogue Events provided each racer with a meal voucher for their choice of either Falafel Republic or Burrito Republic plus a drink voucher for Gil's … another chance to chill in this lovely town at the end of a fun race season!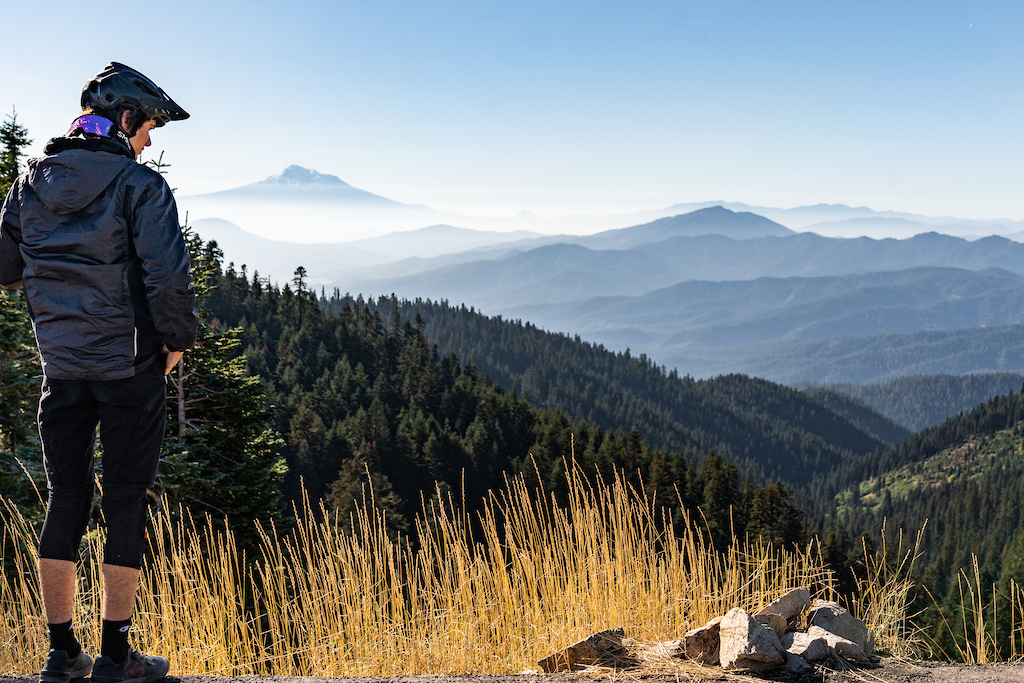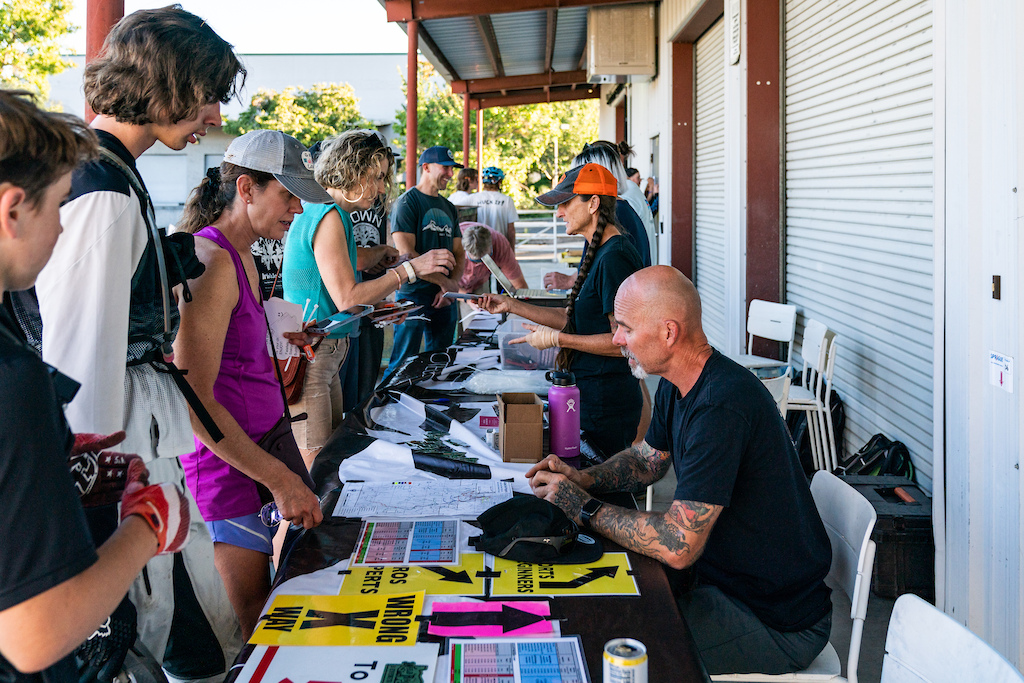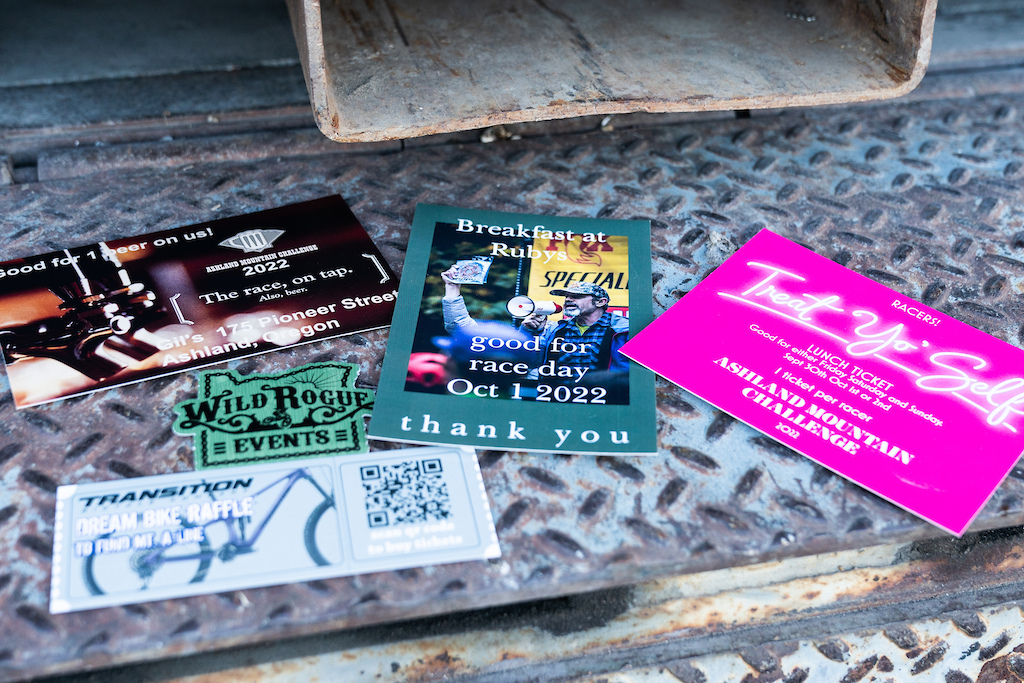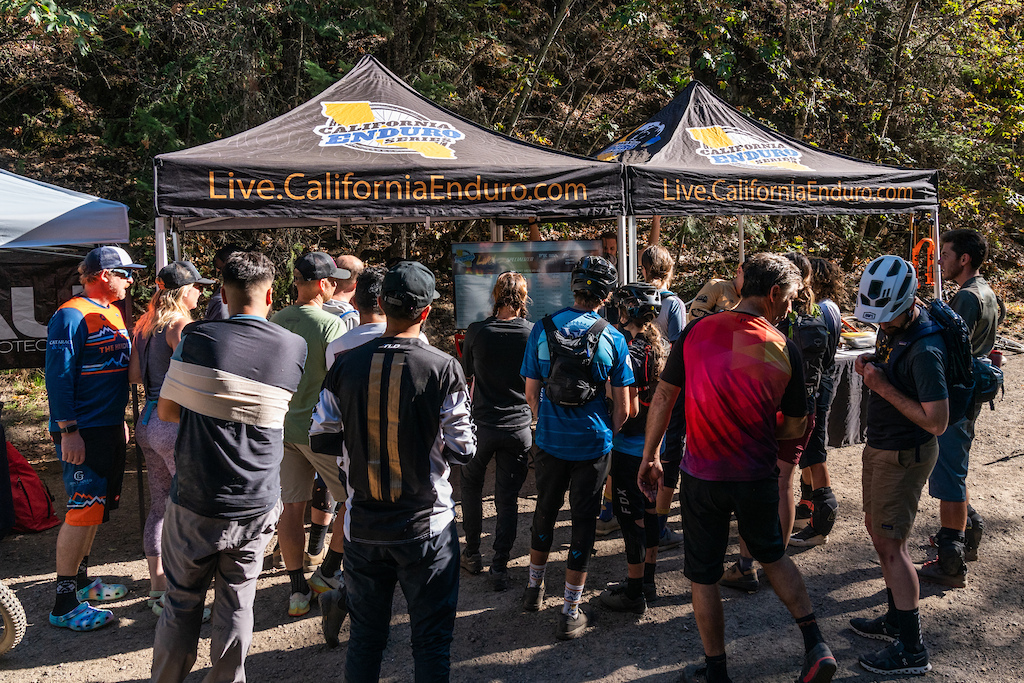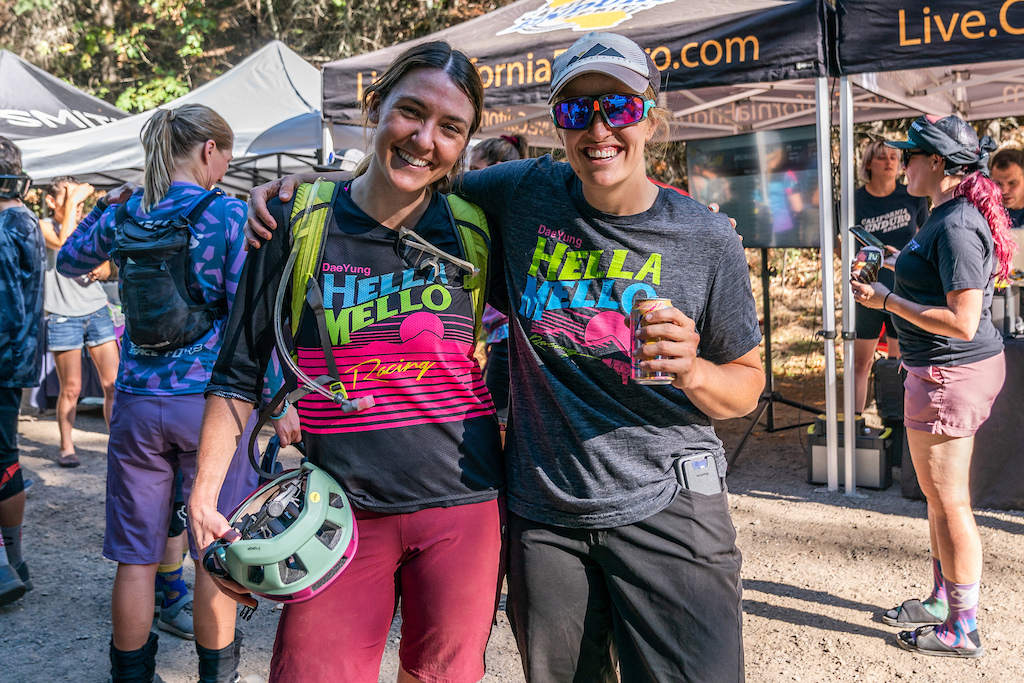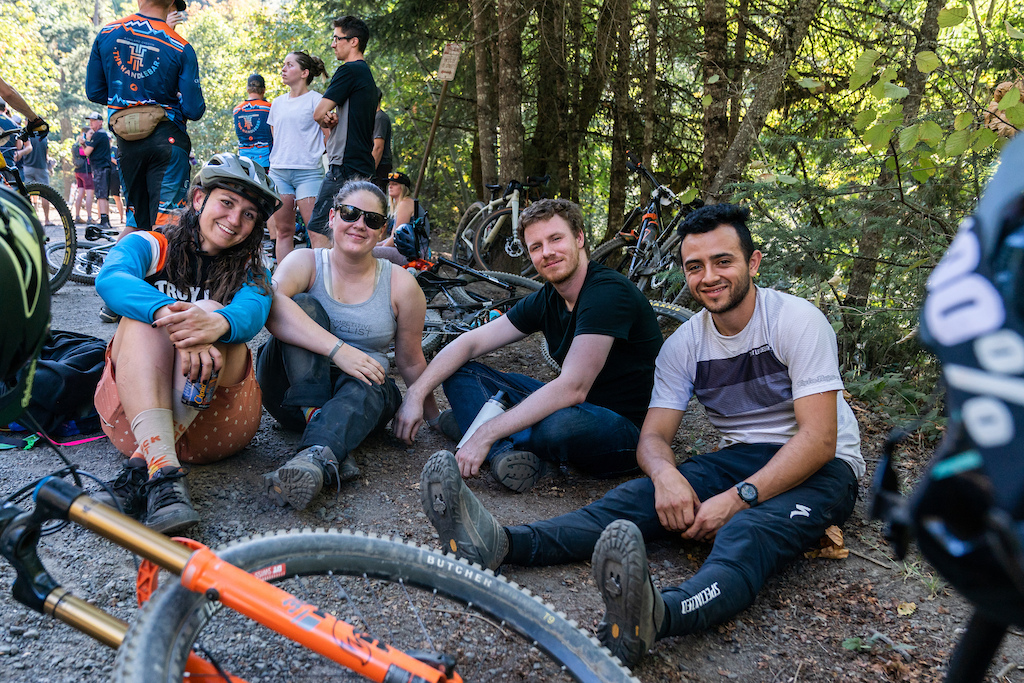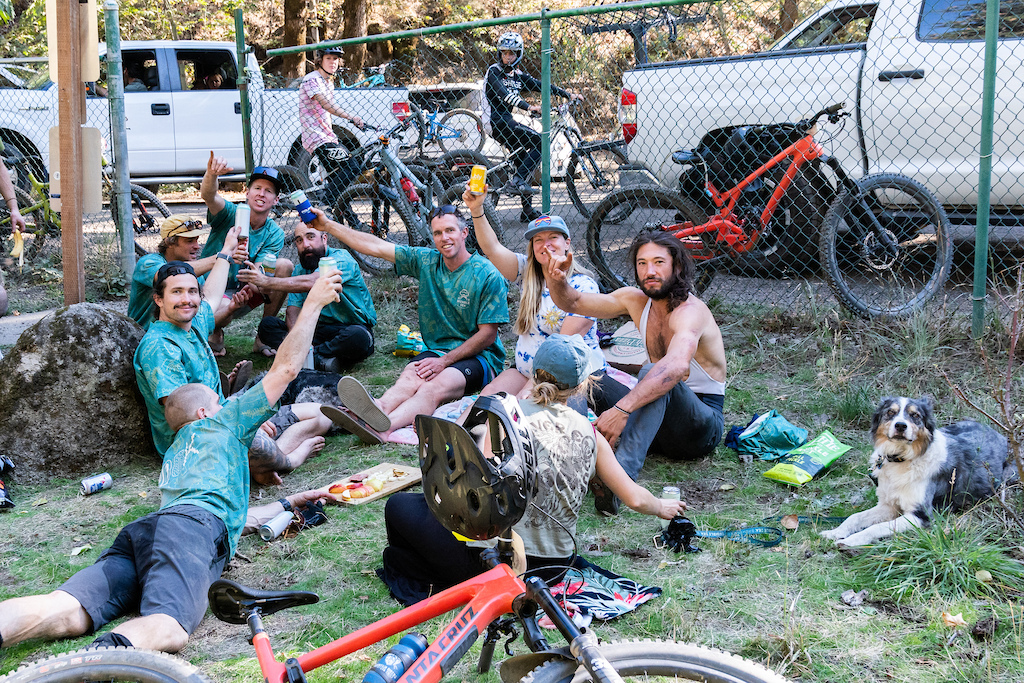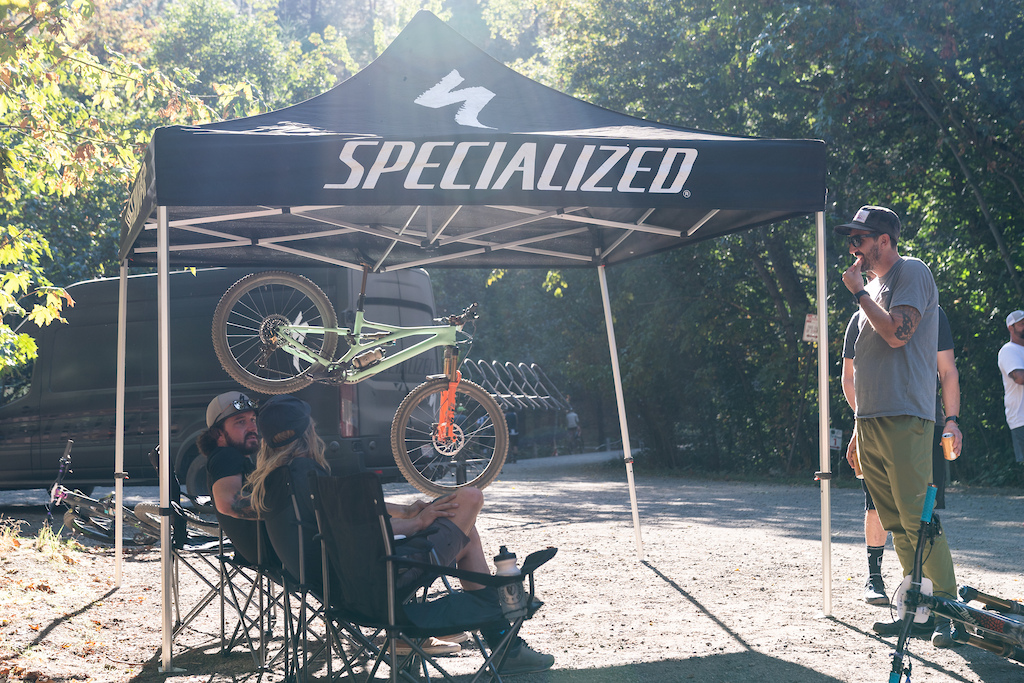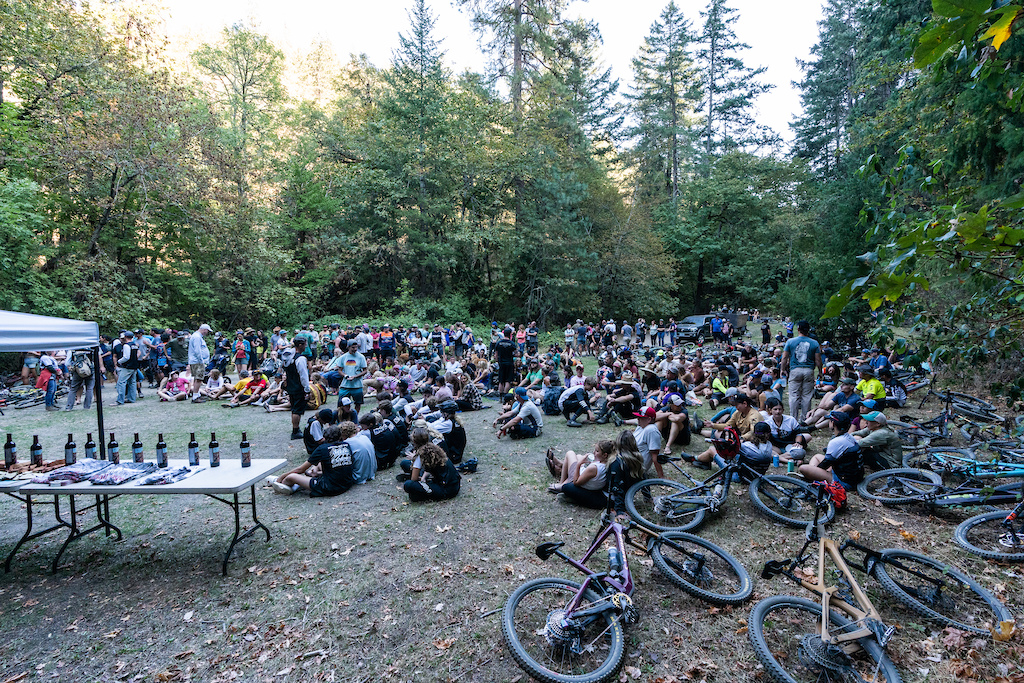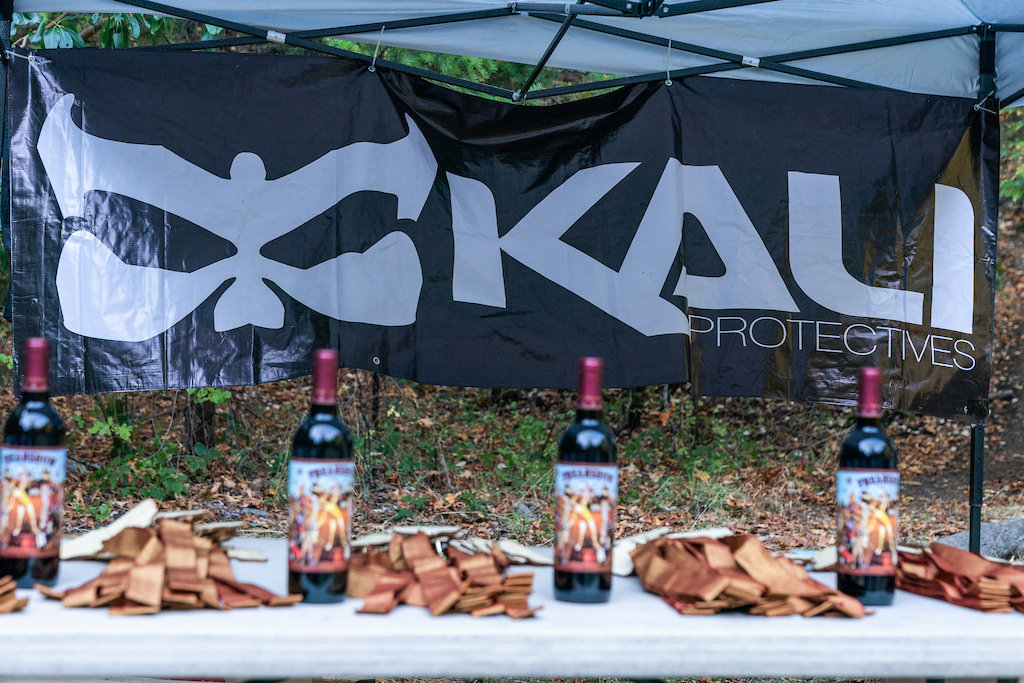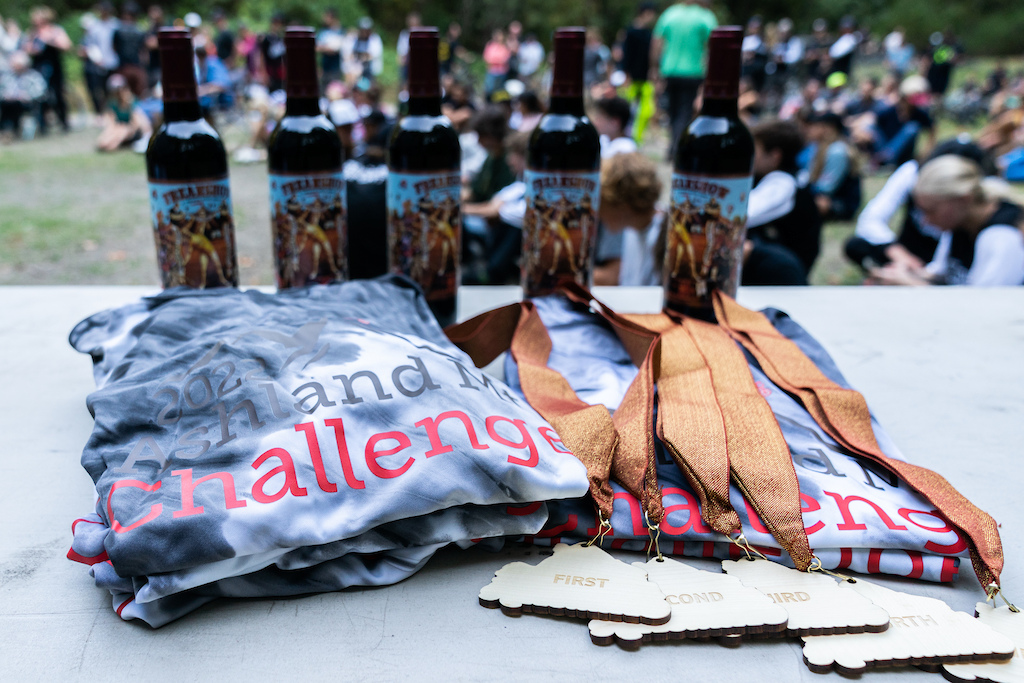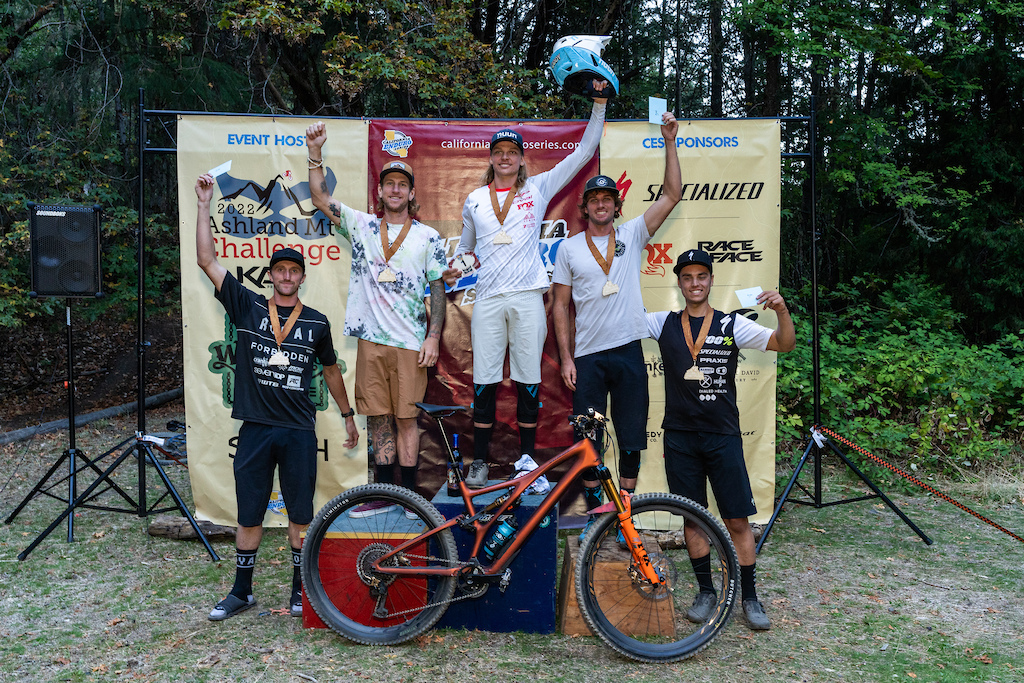 Pro Men Podium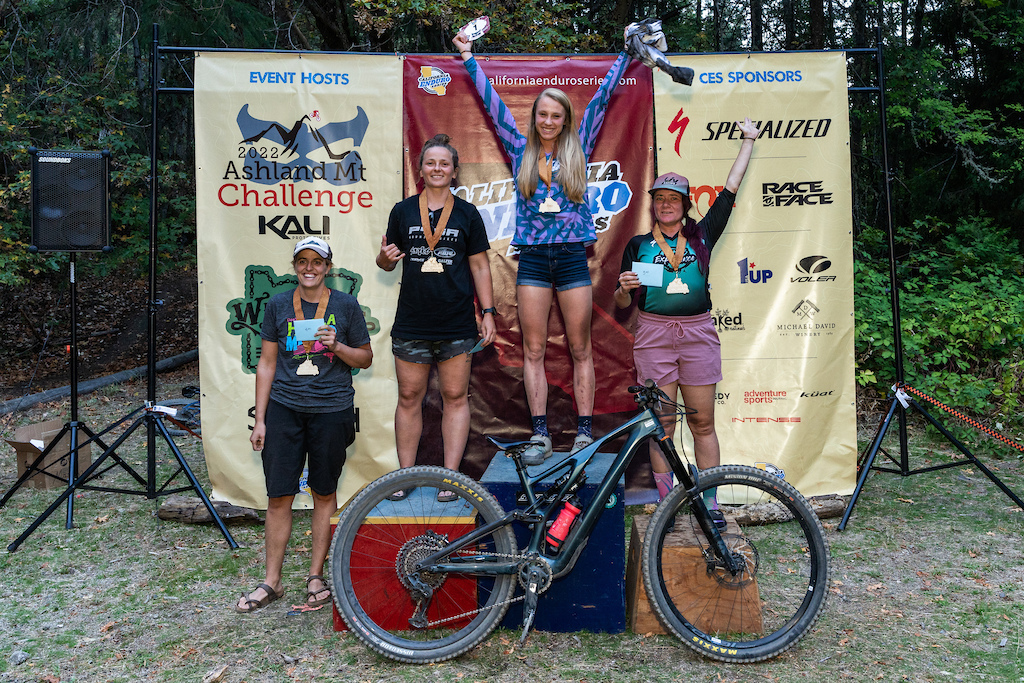 Pro Women Podium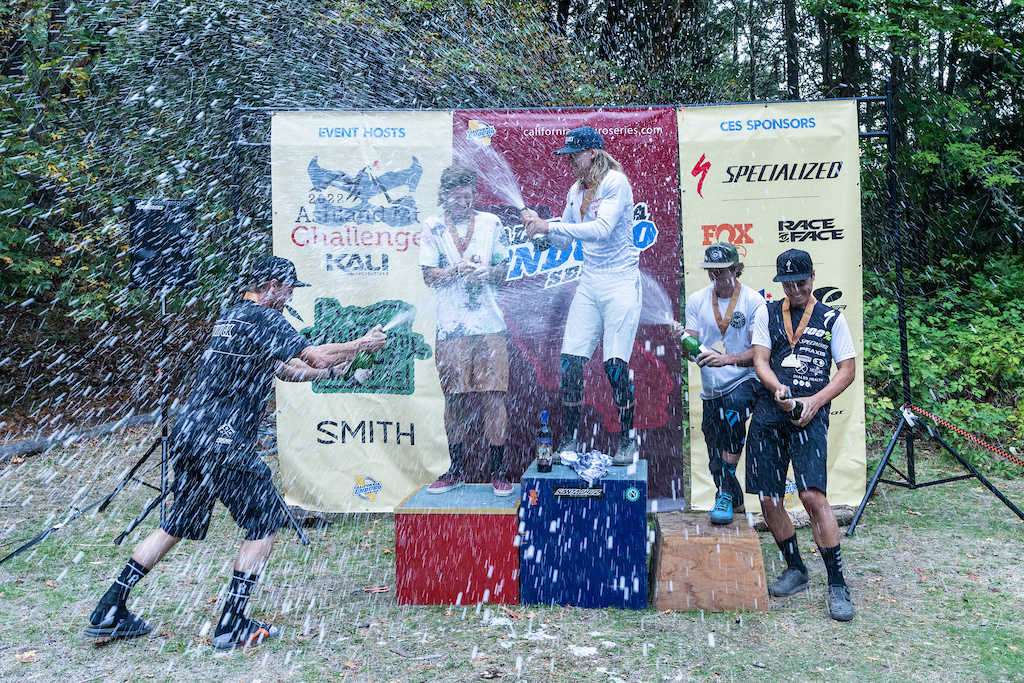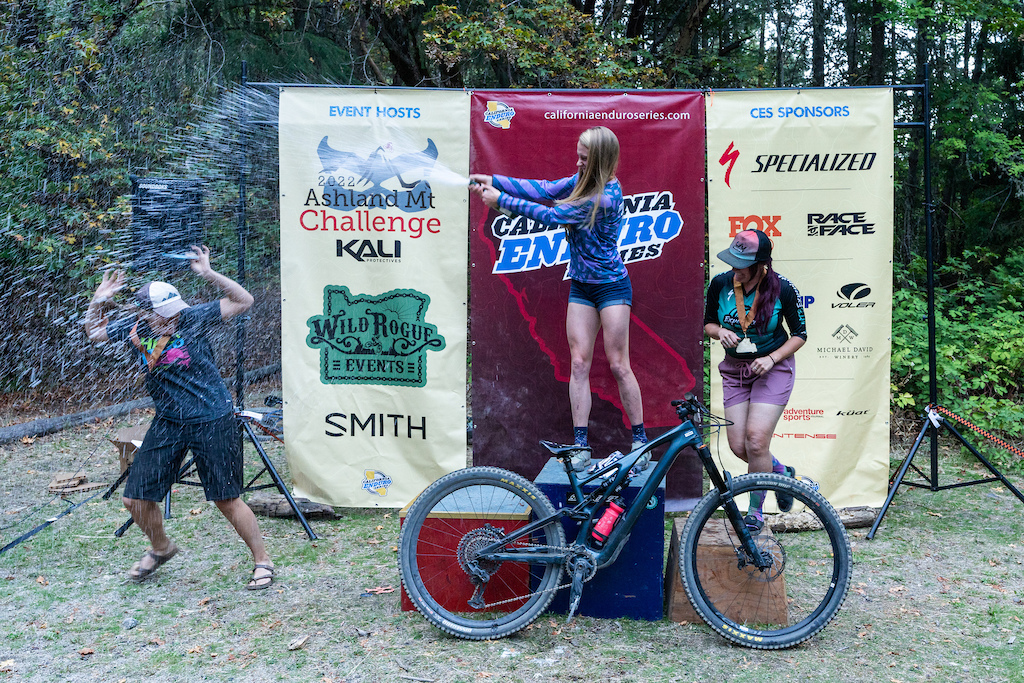 Pro podium shenanigans.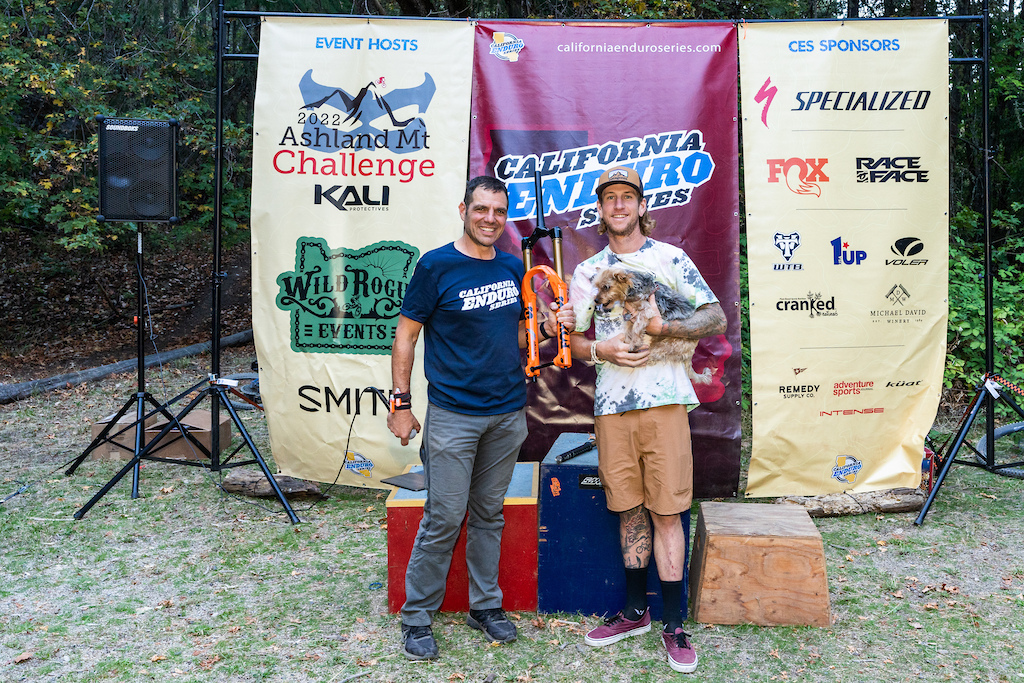 CES co-founder and director Steve Gemelos with the day's FOX fork winner (and birthday boy!) Cory Sullivan. A FOX 36/38 fork are raffled off at each CES race, thanks to FOX's generous support of the series. Noah Smalley won this event's Transfer seat post.
View results for all categories here.
2022 Series Champs
A shout of congratulations to this season's series champions Evan Geankoplis (who deftly defended his 2021 title) and Janea Perry!
Joining Geankoplis in the top five Pro Men overall are Todd Renwick in 2nd, Nick DiNapoli in 3rd, Duncan Nason in 4th, and Adrian Galamba in 5th.
Accompanying Perry in the top five Pro Women overall are Carina Claassen in 2nd, Heidi Kanayan in 3rd, Ashley Kennedy in 4th, and Amy Morrison in 5th.
View series overall individual results for all categories here.
2022 Team Champs
Congrats as well to Scotts Valley Cycle Sport for taking first place in the team competition. Team Mike's Bikes took 2nd, MTB Experience 3rd, PYGA USA 4th, and Northstar Pacos 5th. Thank you all for racing!
View all team results here.
2022 FOX Stage Wins
In addition to the FOX Queen Stage that added bonus points to the series overall standings to the winner of the stage in each category, FOX awarded a Transfer dropper post to both the amateur male and amateur female racer with the most stage wins at the end of the season.
Jennifer Ray (Sport Women 35+) won for amateur female with 21 stage wins out of the 29 stages that made up the six races of the 2022 CES season for his category, while Max Clark (Expert Boys U1) won for amateur male with 20. View all 2022 FOX Stage Wins here.
Enter to WIN a Specialized Mountain Bike
Huge thanks to CES title sponsor Specialized for again donating a brand new mountain bike to be raffled off this season in support of the series. ENTER for the chance to win either the Specialized Stumpjumper Expert or Stumpjumper EVO Expert – winner's choice. The winning tickets will be pulled at the end of the CES 2022 season on October 31, 2022. Tickets are $5 each, or five for $20 and twelve for $40. You need not be present to win, and the bike can be shipped anywhere. Get tickets here.
And while you're in the CES on-line store, pick up some tickets to win a FOX 36/38 fork, FOX Transfer seatpost, and/or a 1UP USA Recon 5 bike rack (or any other 1UP USA bike rack of equal value). $5 each, 5 for $20, twelve for $40.
CES is a for riders, by riders non-profit 501(c)3 organization dedicated to promoting world-class enduro events that everyone from amateur to pro can enjoy, at a geographically diverse range of venues. Full CES schedule at californiaenduroseries.com.
CES is made possible by the generous sponsorship of industry and community businesses. The series is grateful for the continued support of title sponsor Specialized, official suspension sponsor FOX, Race Face, WTB, Voler, Cranked Naturals, Michael David Winery, and Adventure Sports Journal. Plus a big welcome to new sponsors Remedy Supply Co, 1UP USA and Kuat Racks!
If you'd like to get involved and be part of CES' exciting 2023 season, send an email to sponsorship@californiaenduro.com.
Learn more at californiaenduroseries.com.
---
Adventure Sports Journal is proud to be a founding sponsor of the California Enduro Series. Read more about CES here.