Latest posts by ASJ Staff
(see all)
Map Unavailable
Date/Time
Date(s) - 09/16/2023

Categories
TAKE IT TO THE LAKE
HALF MARATHON, 10K & KIDS FUN RUN
September 16, 2023

Take it to the Lake consists of a half marathon, 10k, and a one-mile kids fun run. Run through the remote Schell Creek Mountain Range and end at beautiful Cave Lake State Park where you will enjoy a free BBQ and raffle! If you are looking for a beautiful location and a challenging race, this is the half marathon for you!
Unfortunately Cave Lake is drained due to needed repairs on the damn. Participants will not be able to access the shore or get close to water.
The half marathon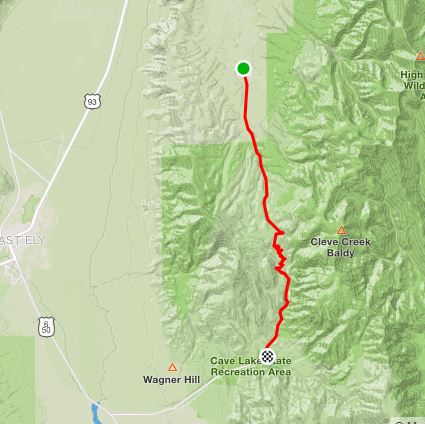 Take it to the Lake Half Marathon is beautiful, challenging and very rewarding! This run takes you through aspen and fir trees and ends at the pristine Cave Lake. The route starts in Duck Creek Basin and climbs 7 miles to Success Summit in the Schell Creek Mountain Range, then almost all downhill to the finish line. The run starts at 7,415 feet and peaks at 8,968 feet. Total elevation gain is 1,604 feet! Aid stations are approximately 2 miles apart. There will be nutrition at the top of Success Summit before you descend to the finish line. This route is predominately on a gravel road. If you are looking for a challenging half marathon, this event is for you!
---

The 10K
Enjoy the scenery on top of Success Summit where Take it to the Lake 10K starts! This 10K is predominately all downhill on a gravel dirt road, except the last quarter mile. Aid Stations are approximately 2 miles apart. The finish line is at the beautiful Cave Lake State Park! The run starts at 8,968 feet and ends at 7,292 feet.
The Kids Fun RUN
The kids one-mile fun run is an out-and-back on a paved road at Cave Lake State Park. All kids get an event shirt, finishing medal, race bib, free BBQ, and free raffle ticket!
Post-race activities
Stay and enjoy the scenery at Cave Lake State Park. We provide a free BBQ and raffle to all participants and volunteers. Awards are presented to top three male and female half marathon and 10K. Everyone receives an event shirt and finishing medal! Also, post-race jump into Cave Lake and receive and extra event memento!
Other important INFO
It will be chilly race morning (30-40 degrees!) and warming up to about 75-80! Be prepared to dress in layers. For both distances, there will be a clothing drop-off bin at the first aid station. Any clothing removed at the start line or dropped into bins will be brought to the finish line. However, if you are in a rush to get home your clothing may not make it to the finish line before you leave. Any left behind items will be posted to Facebook post-race to find proper owners.
Aid stations will be spaced approximately 2 miles apart. For the half marathon, there will be water only at the first two aid stations. Starting on Success Summit there will be water and Gatorade.
There will be one port-potty at the half and 10K start lines. There will also be two more porta-potties located throughout the course. There are bathrooms at the finish line.
New this year, participants can be dropped off at the start lines. Please do not be dropped off earlier than 30 minutes before race start because start lines will be un-manned until then. The start line for the half marathon is located in Duck Creek Basin on the dirt road. The start line for the 10k is located on Success Summit. Start lines will be marked with two colored flags.
The race is chipped time with a gun start. If you arrive late to the start line, we will not correct your time for placing.
No dogs or strollers are allowed on the course.
Please do not litter. There will be a trash can at each aid station.
There is a post-race BBQ and raffle for all participants and volunteers. We will start serving food around 10am.
Awards will be for the top 3 male and female for each race. There are no awards for the kids fun run, but all kids receive a finishing medal. Awards will be distributed when a majority of the participants have completed the half and 10K.
---
Pricing
half marathon = $50
10K = $40
kids fun run = $10
$5 off per person for groups of 10
discount group rates for sports teams
t0 RECEIVE group discount email: elyoutdoorenthusiasts@gmail.com
HaLF MARATHON and 10K MUST REGISTER ONLINE
KIDS CAN REGISTER ONSITE, DAY OF EVENT!
Online registration closes Wednesday, September 15 at 6pm
Half Marathon and 10K must register online.
Kids Fun Run can register online or in-person at Package Pickup or day of event at Cave Lake. Cash or check only!
Start times
Half Marathon Walkers – NA
Half Marathon Runners (& run/walk) – 7:30 AM
10K – 8:00 AM (both run & walk)
Kids Fun Run – 10:30 AM
Half Marathon and 10K Participants MUST register online. Kids can sign up race day at Cave Lake! Cash or checks ONLY!!!
Shuttle
The shuttle will leave from the Cave Springs Loop parking lot. This is the parking lot before you turn right to head up to the lake. Shuttles will leave promptly at the times indicated below. Masks are not required in shuttles. If you need a mask please bring your own.
————–
Half Marathon – 6:15-6:30 AM
10K – 7:00-7:15 AM
Kids Fun Run – No Shuttle Needed
——————
If you are not comfortable riding in a shuttle vehicle, participants can get a ride to the half marathon and 10k start locations. All vehicles at start locations must leave 5 minutes before race starts.
Package Pickup
Location: HZ Fitness
1080 East Aultman St.
September 16, 2022
5 – 6:30 PM
All participants are required to pick up their swag bag at package pickup. This event is chipped timed. Chip is attached to race bib. There will be not extra bibs morning of event if race bib is forgotten.
There will be extra shirts available for purchase ($10/each for half/10K; $5 for kids) at Package Pickup. First come, first serve!
COVID
Masks are optional in shuttle vehicles. Please bring your own mask. Participants can get dropped off at the start locations. Social distancing is highly recommended at the start and finish lines. Hand sanitizer will be readily available at the start and finish lines.
---
---