Latest posts by ASJ Staff
(see all)
Race Day: May 30, 2020, 5:30am
The Bishop High Sierra Ultra Marathons return May 30, 2020 for their 24th running. The Bishop Ultras are known far and wide as challenging, high quality races, with great scenery, abundant well-stocked aid stations with ultra runner volunteers, a fun community of 'repeat offenders', and a pleasant finish line scene. As in the past, distances include a 20 mile "fun run", a 53k, a 50 miler and a 100k. In 2019 we added a 6k, a great option for kids, or those who have a runner out on the other courses, or if you don't want to run so far. The 6k starts after the other distances.  New for 2020: they are coming clean that the "50k" is actually 53k.
They added this race in 2019, to give kids and waiting friends/family something to do while their runner is out on the longer course. This distance starts at 7am and is an out and back to the Tungsten City Aid Station with a bit over 400′ of gain. You can sign up on race day, it's $10.00.  (No t-shirt).
This is a great late spring exploration of the Tungsten Hills and lower Buttermilk area. Many people choose to walk this distance, and why not – on your way you will be supported by six full aid stations and you have 19 hours to finish!  2,800′ of elevation gain, and, ok, it's just a bit longer than 20 miles.
A tough 50+k, with 5,160′ of climbing (pretty much one big hill), the course follows the 50 miler and 100k up into the Upper Buttermilk Country, through aspens and pines, turning around at the Edison Aid Station. 10 fully stocked aid stations will help you get it done!
In the beginning, before low drop shoes and race vests, and when racer t shirts will still cotton, there was the Bishop High Sierra 50 miler… It's not an easy 50, with 8,800′ of climbing, but it has wide open views to the High Sierra, great terrain, and 16 well stocked aid stations to support you.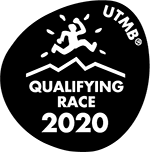 Take the 50 miler and add a 12 mile out and back and you've got a tough 100k course. 19 aid stations will help you get it done. Finishers will recieve 4 UTMB points.
Aid stations for this event are famous for the variety of food and drinks available, particularly as the race progresses. Racers are treated to a post-race buffet.
The race is produced by Eastern Sierra Interpretive Association (ESIA) — a Bishop-area non-profit organization — and benefits its Eastern Sierra Youth Outdoor Program, and Inyo County Search and Rescue.
Learn more at bishopultras.com